Social media campaign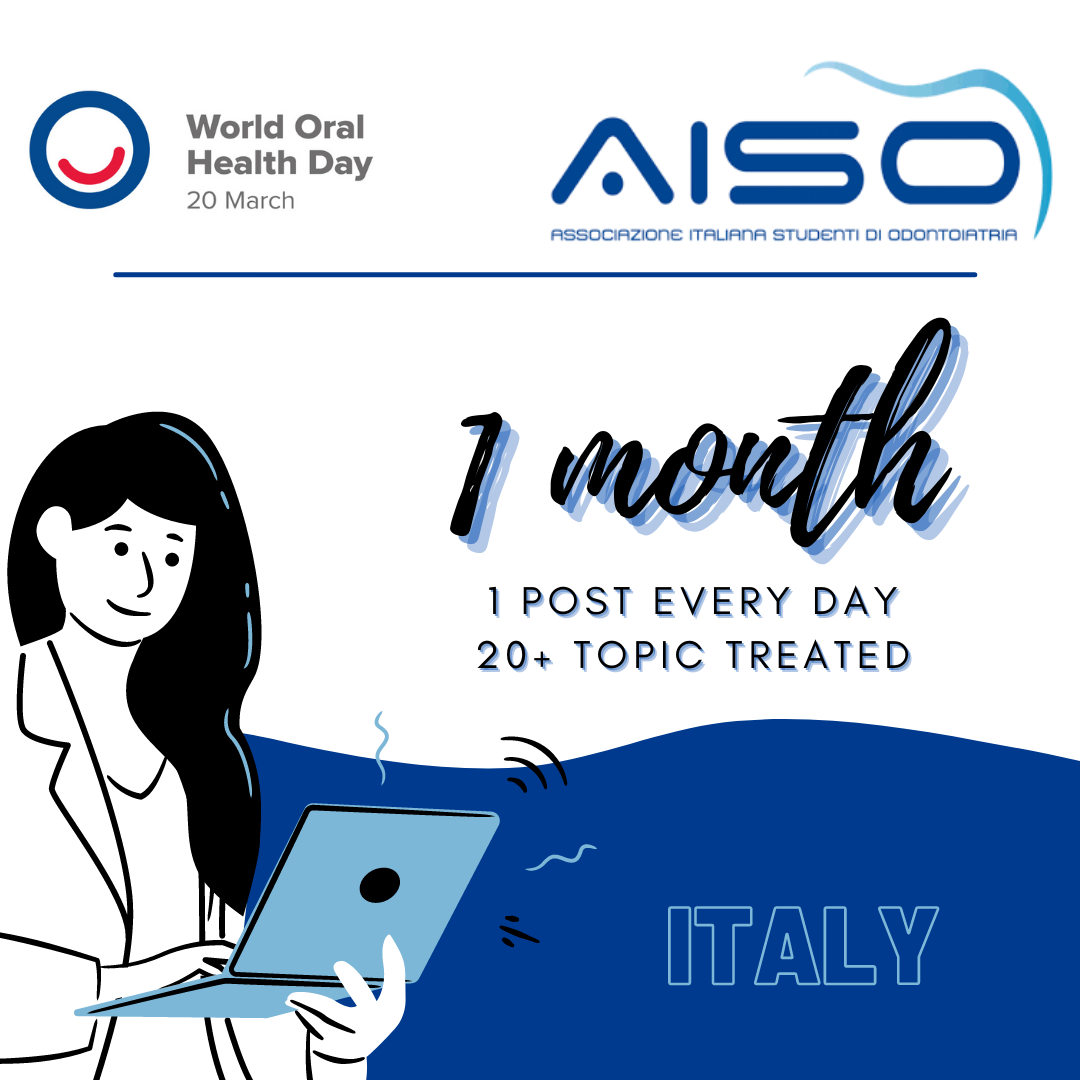 AISO, the Italian Association of Dentistry Students following the health emergency situation that did not allow students to organize events in the square or in the classroom in the various schools, has decided for this year to create an entirely digital campaign.
Using the social media systems, a month of posts was created to talk about different topics but all with the aim of giving people take home messages to be proud of their mouth regardless of the situation they find themselves living in. So whether it is a person with dentures, a pregnant mom or a boy in orthodontic therapy, the posts were aimed at talking about the different possibilities and how to best take care of them in order to smile proudly once the pandemic is over and once we take off the masks.
The AISO is divided into small groups, in particular 24 groups took part in the initiative and starting from February 26, 2021, every day one of the groups has dealt with a different topic in the post. The post was published on the Instagram page belonging to the AISO group that created it and on the day of publication the post was shared both by all the Instagram pages of the other AISO groups and by the various dentistry students who are part of the association. The goal was just that, to make the students re-share the post in their pages, so that their friends and relatives could be informed about that particular topic.
This process was then repeated every day. In fact, every day a different topic was posted by a different AISO group and shared again massively on Instagram.
At the end of the campaign on March 21, 2021, a summary video was therefore created that grouped all the posts into a single video created to have a summary to be shared both on Instagram and privately on Whatsapp and in particular each student asked their friends or relatives who are also parents to share the video in their children's school groups for other parents to see as well.
Unfortunately, the activity report page allows you to share only 5 social pages and therefore only 5 posts of those created, but they can all be seen in the featured stories section on the national AISO page.
Information
npo@aisoweb.it
Digital Campaign
Digital Campaign PG
Italy
Instagram and Whatsapp